The Athletic Power Lifestyle
Celebrating Human Performance Since 2022
Life's too short for average sports bags – and life's too busy to waste time rummaging for your earphones and other-black-sock. That's why M.A.D PWR isn't just a bag. It's the sidekick that keeps your active lifestyle under control when you're on-the-move. M.A.D PWR was born to make your life easier. With a bag like this, everything has its place. Grab, go, play and slay.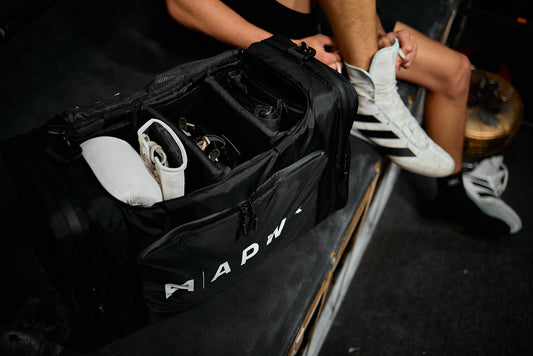 Our story
There's no shortage of sports bags out there, but there's only one designed to light the fire that fuels your athletic dominance. As fitness advocates ourselves, we were sick and tired of carrying multiple bags with us wherever we went, with none of them truly serving our needs.
Packing, unpacking, packing, and unpacking our gear constantly felt like some warped GroundhogDay nightmare. We didn't think it was too much to ask – a better bag that inspires peakperformance, keeps us organized, and can move with us wherever we go.
We wanted better. We needed better.
And we knew we weren't alone.
Over the years, we've come to understand that a well-organized bag can literally mean the difference between victory or defeat. In pursuit of a simpler, easier life, we created our flagship sustainable sports bag, M.A.D PWR.
Designed and made at the hands of filmmakers who are active in the sports sector, APWR knows what athletes need to achieve peak performance, whether you're an amateur, pro, or somewhere in between. But we wanted to create more than a bag.
We wanted to build something that empowers and inspires you to live an active and healthy lifestyle, in and out of the gym, no matter your age or ability.
Our products meet you where you're at and serve as a constant reminder that you are capable of more than you think. Good days, bad days, and all the days in between, our unisex sports duffels will never let you down – because you never stop working, pushing, grinding to be and do better than yesterday.
Our promise is to do the same, standing by your side on this journey. No matter the destination, Athletic PWR will be there for every step and rep. We're not just a company – we're our own customers and a collective of creative creators who want to help you train better, from pre-game strategy to on-the-field action. We are incredibly proud to be bringing the world a plastic-free gym bag that's just as beautiful as it is functional, with space for days and quality that'll last for years to come, bringing an end to the throwaway epidemic.
Today, our bags are changing lives for people from all walks of life. Even non-athletes who simply need a better travel, school, or work bag choose Athletic Power, admitting that they can't imagine life without it.
Living your best life looks different for everyone, but M.A.D PWR is the glue that binds us together.
We speak your language. We share your goals, your resilience, your grit. We're all in this together, and with tools like this, we're that much stronger.
Even when life throws you to the wolves, you have the power to come back leading the pack. That's what it means to have true Athletic Power.
Our purpose
ACHIEVEMENT
We're committed to helping people achieve their goals, and we're here to help anyone become their best version of themselves. We believe that a well-organized bag can be the difference between success and failure, and we want to help make life easier with our line of sport duffel bags.

COMMUNITY
We believe that community is truly where it's at. We've seen too many people buy products that don't fit their needs, or spend money on things they don't really want just because they didn't know who else could help them. We want to change that by bringing peace of mind to our customers, knowing that their goods are organized safely and ready for whatever comes next.

LEADERSHIP
We want to be leaders in the industry—not only by providing quality products and services, but also by making sure that we are constantly innovating and improving upon our offerings so that we can continue supporting those who use our products with the best possible experience.
Maximize Athletic Dominance
We believe that a well-organized bag can be the difference between success and failure, and we want to help make life easier with our line of sport duffel bags.